"I have complete
control of my job
and my inbox!"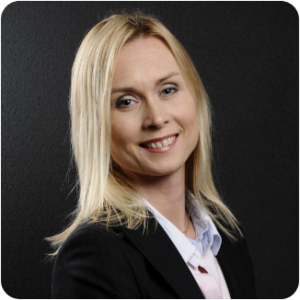 A course that makes a difference – for real!
Mia Nordström is the Senior Policy Advisor E-mobility at Vattenfall. She been working at Vattenfall for 14 years, and with environmental and climate issues in business for more than 20 years. In addition to this, Mia has been politically active for many years. Three years ago she experienced burnout as a result of working a full-time job, extensive political involvement, but above all a lack of control. In an interview, Mia explains how Open Training with Effektiv Nu was an important step in helping her get back with a sustainable structure and greater sense of digital control.
"I started taking care of my lifestyle and realised that I was working far too much. I wasn't setting aside enough time for recovery. I also started looking through my routines and what was actually causing my stress, and realised that my inbox was a significant, underlying, low-grade stress factor that was ever-present. I always had several hundred e-mails in my inbox that I was constantly trying to sort into folders and to flag, etc., but I was rarely in complete control. I had a constant sense of not really having an overview of all the various projects and questions. Of not really knowing if I'd forgotten anything. In addition, I was writing up lists on notepads and so on, and going around with all this information in my head about everything I had to remember. And I felt there had to be some tool to make things easier. There had to be another way."
How did you come into contact with Effektiv Nu and our Open Training?
"I was having lunch with a friend and colleague at Volkswagen, who had also been suffering from burnout. She explained that she had attended a course at Effektiv Nu that had been great, and that it had helped her a great deal to reduce her stress, to gain control and to structure her work. So I talked to my boss and said that I'd really like to take a course. She looked up what was available in-house, and it turned out that IT colleagues could offer a 2 hour course that would be for the entire unit. I explained that I needed more time, so she said I should try a course like this and then tell the others what I had learned."
What did you think of the course?
"I took the course about 18 months ago and opted to participate digitally. And it went well, although it is always an advantage if you can meet in person, of course. If it had only been that one day, however, it would probably have been difficult to bring about a change in behaviour. The thing that represented the big breakthrough and added value for me was the follow-up. I was given a personal contact person, Caesar, and we were able to sit down together so that he could point things out and explain. And I was able to gather together all my questions. I've had the notion in my head that I can't do IT, and I get stressed as soon as anyone says IT! The great thing was that I realised that this is difficult for everyone, because we have never received any additional training. I may have been given a brief run-through in PowerPoint or Excel, but these are pretty advanced tools, which means that it is necessary to start changing behaviour and receive follow-up."
What have been the effects of the training for you?
"The fact that I have complete control of my job and my inbox! The end result has been that I basically have nothing in my inbox at the end of each week, and occasionally on a number of occasions during the week, which means that the stress regarding my inbox is completely gone. And the funny thing is that I've become proactive rather than reactive. As a result, I'm constantly checking what tasks I have tomorrow or what my deadlines are, and so on. Things almost never come down to the wire, and I can also follow matters up much earlier with my colleagues and external business partners, which means that I feel a sense of calm. And now when I stop for the day, I let go of my job. I don't have to have all these things running around in my head."
Was there a breakthrough moment that you remember particularly well?
"I would say there have been many moments, although in particular the first time I actually had nothing in my inbox. What a feeling! I wrote to Caesar to tell him that my inbox was empty, and his reply came back "You're a star, great job!". And I've saved that one. That e-mail is still in my inbox, so whenever I reach zero and I'm in control, it's still there. It's great having his feedback and the security of knowing that he's still there for me two years after the course. I've hardly needed to call him, but I have the confidence of knowing that he's going to answer sooner or later. Another aha moment was the time when he explained to me that you can have as many tasks as you want, but that the system itself lets you know when things are starting to get urgent, and so on. Understanding this and seeing how it was synced with the calendar has saved me an enormous amount of time. Another aha moment, after a while, was when I realised that I maybe don't have much to do. No, it's not that I don't have much to do, but that I'm in control! And the calm that came with that certainty."
What would you like to say to anyone who is uncertain about whether this is something for them?
"Sign up! It will make major changes and improvements in your work. You will learn to gain control over your work, and you will experience a sense of calm. It will take away the stress relating to your work. So I would recommend everyone to attend this course. Above all, however, I would say to those people who feel that they are not really in control, those who feel stressed and perhaps feel that they are close to burnout, they should start thinking about how they actually use these tools. What is their inbox like? Are they in control? They really, really need this training now! But then everyone needs this training, in my opinion."
If you are also interested in our Open Training and would like to know more, you can click HERE to find more information about the course and registration. If you would like to get in touch with us directly to ask any questions, you will find our details under Contact.